Rowan Moore introduces our interactive image of Wembley Stadium on cup final day, May 2011, taken as Manchester City celebrate their victory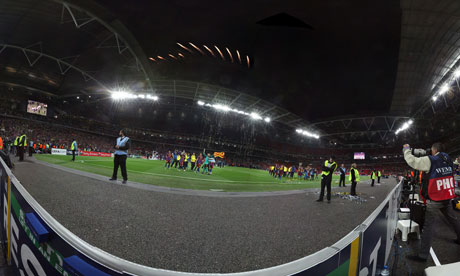 The Champions League final at Wembley Stadium on 28 May 2011. Photograph: Jim Powell for the Observer
The history of architecture is also the history of images of architecture, and one changes the other. Now, thanks to computer software which stitches together dozens of photographs taken from a single point at different angles, it is possible to communicate buildings in a new way. You are put in the middle of a space, and – using your computer mouse or dragging your iPad screen – you can look in any direction you choose: up, down, sideways, diagonally, in any direction in full 360 degree turn, in three dimensions. With these images, the rules change. You are immersed, not put at a distance, and the experience of being inside a space becomes more important than viewing a detached object. Interior counts more than exterior and a basic truth about architecture, that it is ultimately about making spaces not things, becomes apparent.
Architecture is a background, a setting, an instrument that enables other things to happen. This is particularly true of stadiums which, in use, are made by players and crowds. The famous Wembley arch was a deliberate attempt to make a modern version of the Twin Towers of the former stadium, and it works well enough as a landmark and logo, something to glimpse on the approaches to a match.
Once a game starts, action and reaction are everything, directed by the geometry of the pitch and sightlines. The Eiffel Tower could be floating overhead, and it would make no difference. This does not mean that design is irrelevant, but it is more about the reverberations of sound, the closeness of fans to the pitch, the angle of seating, than spectacular objects. Modern Wembley, by Foster and Partners and HOK Sport (now renamed Populous), has a bit of a flat-packed feel, unresonant, like a mid-range conference hotel, at least in its supporting spaces.
Once full, however, weight of numbers, plus its cauldron-like form, make it a powerful place.
When the dystopian visions of science fiction start ringing true, you can bet there is something wrong.
Dlandstudio, Hybrid Urban Base for Queens, N.Y., from the "Glimpses of New York and Amsterdam in 2040" exhibition.
Credit: Dlandstudio
I'm something of a science fiction geek. While you won't catch me at Comic-Con dressed as a Wookiee, it is true that Ridley Scott's Blade Runner is one of my favorite movies, and that I have owned three successive copies of Frank Herbert's Dune, each of which has fallen to pieces after multiple readings.
I generally keep this particular set of enthusiasms to myself—there are topics of conversation with broader appeal than, say, the theme of decay in Katsuhiro Otomo's epic manga series Akira—but being a fanboy does have its benefits. Like whenever I catch up on the news. Because these days I find science fiction can be my best, and sometimes my only, frame of reference.
Credit: Warner Bros
Science fiction isn't such an odd preoccupation for designers. After all, central to the genre is the conceptualization of entire worlds. Director Fritz Lang's Metropolis is no less powerful—and was no less influential—than Le Corbusier's contemporaneous Ville Radieuse. To be clear, however, there is science fiction, and there is science fiction.
Credit: Universum Film (UFA)
Le Corbusier's Radiant City
I'm not much interested in the Predator movies, for instance. Arnold Schwarzenegger's line from the first installment, "If it bleeds, we can kill it," sums up the empty first-person-shooter attitude toward violence—that it's free of moral consequence. Never mind that the target from outer space is usually just a stand-in for communism or feminism or illegal immigration. If it's a metaphor, we can kill it.
Nor, by contrast, am I a fan of the Star Trek school of wide-eyed utopianism. Too many of humanity's core causes for conflict and self-improvement—politics, sectarianism, resource limitations—have been miraculously resolved in the giddy rush to go where no one has gone before. (What fuels that warp core? Hugs?)
No, the subgenre that really grabs me is the dystopian, in which science fiction mirrors our own society, warts and all. Particularly the warts. One such work, Flood by Stephen Baxter, follows the near-collapse of civilization in the face of rapidly rising seas. Never mind that seismic activity, not climate change, is the author's scientific explanation for the calamity. The book was published in 2008, and, at the time, its descriptions of London and New York flooding read as science fiction—which is to say, implausible—even though Hurricane Katrina had happened just three years before.
Dlandstudio's Willett's Point Sea Level Study: Harvard University Design Studio
Then a pattern began to emerge. In 2010, floods in China left thousands dead and forced millions to evacuate, while an intense monsoon season left one-fifth of Pakistan underwater. In 2012, Hurricane Sandy whalloped the Eastern Seaboard. Last September, Colorado exceeded its average annual rainfall in just five days, with horrifying results. And last month, record rainfall and 100-mph winds drove thousands from their homes in Southern England.
And don't get me started on the droughts.
I hope the worst events in Flood never come to pass, but science and science fiction seem to be falling into ever-closer alignment. In October, the journal Nature published a report that compiled 39 different peer-reviewed climate models into a single forecast of the dates for "climate departure," when the lowest temperatures in a region are warmer than the average highs of 1860 to 2005.
Credit: University of Hawai'i
As National Geographic puts it in an article about the report,"The coldest year in New Guinea after 2020 will be warmer than the hottest year anyone there has ever experienced." New York City and Washington, D.C., are scheduled to depart by 2047, with a five-year margin of error.
This is why we need more architects who focus on resilient systems, like Susannah Drake, AIA. (See our profile here.) It can be exciting when science fiction becomes reality—like when man walked on the Moon—but visions of the future can be both positive and negative. When science fiction's downsides ring true, architects need to stand up and take note.
In 2011-2012, Architecture for Humanity hosted the Open Architecture Challenge: [UN]RESTRICTED ACCESS – a design competition re-envisioning the future of decommissioned military space. An open invite to the global design and construction community to identify retired military installations in their own backyard, the competition encouraged collaboration with local stakeholders to reclaim these spaces for social, economic, and environmental good.
On August 1, 2012, the results were announced–though the Challenge is far from over. With 174 submissions for nearly as many sites, [UN]RESTRICTED ACCESS has launched an in-depth international conversation and a suite of resources and ideas for these teams to carry their projects forward in development, and build real, realizable solutions for the communities they are working with.
The Challenge Team at Architecture for Humanity continues to follow developments, liaise and develop resources for these teams.
Program Updates
Posted by Karl Johnson on May 15, 2013
Following their placement in the 2011 Open Architecture Challenge for their entry Ecological Processing Zone, the Oakland, California, based engineering group Urban Biofilter launched the next step in their ecological initiative: Adapt Oakland.
Springing from the presentation pieces built for the Challenge, Urban Biofilter recently received substantial grant support from the State of California to continue their project, already three years in development. Based in West Oakland themselves, Urban Biofilter has been working with the community, the neighboring port and the City of Oakland to develop pragmatic interventions to counter the detrimental impacts of living beside the Port. We covered their project presentation last fall and are excited to see their efforts moving forward.
Building high, adding on, and starting with carte blanche—Architectural Digest takes a snapshot of the state of architecture today by looking at 14 new projects that do just that. The quest to construct New York City's tallest residence is changing the Manhattan skyline just as the world's first super high-rise neighborhood is taking shape in Shanghai's Pudong district. With his successful expansion of Louis Kahn's Kimbell Art Museum under his belt, Renzo Piano flirts with historic structures in Boston and Paris, while Steven Holl goes face-to-face with Charles Rennie Mackintosh's masterpiece of modern architecture in Glasgow, Scotland. Diller Scofidio + Renfro and Shigeru Ban make their marks with a string of new museums opening across North and South America. Thirty years after Coop Himmelb(l)au's now iconic design for a remodel of a Vienna rooftop helped usher in Deconstructivist architecture, the firm's fragmented forms are popping up in three major projects throughout Europe. Also early proponents of Deconstruction, Daniel Libeskind and Zaha Hadid trade in tortured typologies for soaring structures in China—the former with the Zhang ZhiDong and Modern Industrial Museum in Wuhan, China, the latter with the Jockey Club Innovation Tower in Hong Kong.
Big has a bad rap. Big buildings—either vertical or horizontal—are often soulless, monotonous, or intimidating. Beyond a certain size, is real architecture possible? The projects examined here, all more than a million square feet, confront the gargantuan challenges —and solve them in ingenious ways. For example, a residential complex in Singapore broke from the model of towers-in-a-park by stacking horizontal volumes in dynamic clusters. This strategy created greater connectivity and a more human scale, while allowing light and air to penetrate inside. The other projects here also tackle the problems of scale, sustainability, and human engagement. It's clear that, as the world's cities grow and become more dense, supersize designs are going to be a significant part of the urban fabric.
De Rotterdam
Bringing XL Back Home: Having completed huge projects in Asia, Rem Koolhaas and his Office for Metropolitan Architecture apply their strategies for building extra-large to the small city in which they are based.

Photo © Richard John Seymour

Pearl River Tower
Towering Ambition: With an office building in rapidly expanding Guangzhou, Skidmore, Owings & Merrill puts super green before supertall.

Photo © Tim Griffith

Shenzhen Bao'an International Airport Terminal 3
Lights, Camera, Architecture!: Treating an enormous airport as a cinematic experience, a Rome-based firm designs a series of architectural scenes in which light and space play leading roles.

Photo © Leonardo Finotti

The Interlace
Stack the Decks: Architect Ole Scheeren hypothesized that dense urban residential living didn't have to occur in an isolating skyscraper—and he was right.

Photo © Iwan Baan

Big, Bigger, Biggest
The future looms large for seven forthcoming projects around the globe that demonstrate ambition in scale and form.

Photo © MAD Architects

Asking Mr. Big
Foster+Partners has designed megaprojects around the globe, from airports to skyscrapers. How are super-size buildings, such as Apple's future headquarters, shaped for the people who will use them?

Photo © Nigel Young/Foster+Partners

Exhibition Review: High and Low
New York's Museum of Modern Art offers a fresh look at Frank Lloyd Wright's ideas for skyscrapers and city planning.

Image courtesy Museum of Modern Art and Avery Architectural and Fine Arts Library

Editorial: Supersize It
Technology, demand, and daring are driving the push for big buildings.

Photo © Michel Arnaud

Snapshot: Spaceport America
On a barren patch of desert in New Mexico's Jornada del Muerto basin, just 50 miles west of the site where scientists detonated the first nuclear weapon, Foster + Partners took on an extraordinary task: to construct the world's first private hangar facility for spaceflight.

Photo © Nigel Young / Foster + Partners
In the 1970s a new dawn in architecture was christened 'High Tech'. Rejecting the wet and messy world of bricks and concrete, it was an approach to building with an eye on the future.
Lloyd's building, Lime Street, City of London
In the 1970s a new dawn in architecture was christened 'High Tech'. Rejecting the wet and messy world of bricks and concrete, it was an approach to building with an eye on the future.From factory buildings across Europe, the HSBC Bank in Hong Kong and the Lloyds Building in London, it was an approach that revelled in modern materials, engineering and structural daring and where air ducts, service cores, as much as steel trusses and cross-braces, became part of the visual articulation of a building. But where did this style come from and what inspired its creation?
Programme
Plug-in city
6pm to 8pm, Drop –in Workshop;
Taking inspiration from Archigram's 'tech' filled mega-structures and plug-in city designs, add your own designs for plug-in, never-ending mega-cities to a vast hand-drawn skyline circling the Florence Hall. Materials provided.
Basic Bucky…in his own voice and words
From 6pm (loop 32 mins), Film
Discover more about engineer and futurist Buckminster Fuller and the ideas, synergy, energy and geometry that influenced a generation of British architects and a 'less is more' approach to architecture. A film by Academy Award Winner Robert Snyder courtesy of Masters & Masterworks.
The Brits Who Built the Modern World – Influences and Breakthroughs
From 6pm (loop 15 mins), Film
Norman Foster, Richard Rogers, Terry Farrell, Nicholas Grimshaw and Michael and Patty Hopkins on the Festival of Britain, America, the Reliance Factory, 125 Park Road and the Hopkins House. Taken from the new BBC series. Courtesy of Oxford Film & Television.
Engineering Drama – 19th Century High Tech
6.30pm (30 mins), Talk
Advancements in the technology of iron and steel during the 19th century radically transformed architectural design. Engineers played a crucial role in the development of new forms and structures that came to influence architects both in Europe and the United States. Photographs curator Valeria Carullo explores the engineering feats of the 'iron age' with images from the RIBA Library's world-class collections.
High Tech's Post-war Origins
7.15pm (30mins), Talk
In the post-war years a generation of British Architects found inspiration in new places, products and techniques. From American industrial design, space craft and pop culture, architectural writer and historian Colin Davies, charts the diverse post-war journey of High Tech.
High Tech Thoroughbreds
8pm (30mins), Talk
Braced, suspended, cantilevered and stretched in new shapes and at new heights, High Tech's landmark structures took the world by storm at home and abroad. The Twentieth Century charts the high points of the style that caused controversy wherever it went and its legacy today.
Exhibitions
The Brits Who Built the Modern World: 1950 – 2012
The Architecture Gallery
Discover a global story of British architecture and how a generation ushered in its transformation in the post-war years.
New British Works: today – Tomorrow
First Floor Gallery
A look at new British architecture around the world and, with guest contributors, an exploration of what makes British creativity such a potent force today.
Building Tours
Discover 66 Portland Place
6.30 and 7pm (approximately 30 mins)
Join us for an intimate tour of RIBA HQ. Our tour guide will reveal the history and stunning 1930s design of 66 Portland Place.
By supporting the RIBA through donations, legacies, patronage or corporate giving you help us build a brighter future for architectural excellence.
As a registered charity (number 210566) we rely on the generosity of individuals, companies, trusts and foundations to support us in championing better buildings, communities and the environment through architecture and to ensure we continue to provide a diverse and exciting programme of work.
 
We are grateful for individual donations of any amount. Help us promote architecture to future generations.
Visit us at our London home at 66 Portland Place, an Art Deco masterpiece and cultural destination in the heart of the West End to learn more about our work.